MIROMAR LAKES (February 26, 2020) — Gulfshore Homes, an award-winning builder that has elevated the luxury home market in Southwest Florida during the last 25 years, is working with Freestyle Interiors to create distinctive interior design that reflects a refined contemporary-coastal living experience at its Lucien model.
Nestled along the beach and 700-acre freshwater lake in the exclusive Ancona neighborhood at Miromar Lakes Beach & Golf Club, the #1 Community in the USA, the Lucien will be complete in the fall of 2020. Freestyle Interiors was chosen for their ability to add artistry in luxury home design. Gulfshore Homes routinely involves the interior designer immediately following engagement of the architect. This team approach allows for a creative, collaborative process that ultimately results in the realization of the vision.
The Lucien will reflect a contemporary "organic feel" incorporating elements of clean white lines in its furnishings, walls and flooring, with added contrast provided by warm walnut wood cabinetry and accents.
The home's interior furnishings will incorporate a neutral palette of white leather and upholstery highlighted by contemporary artwork, rugs and accessories in vivid primary colors. The home's floorings will be primarily white porcelain and quartz tile with walnut inlays in the foyer. White cabinetry in the kitchen will provide a subtle backdrop for the oversized custom walnut island and eye-catching stainless range hood with walnut detailing. Appliances will be stainless steel as will be many of the lighting features in the home including an elongated fixture in the dining area. A custom-built walnut dining table with chrome legs on the matching eight chairs will separate the great room from the kitchen.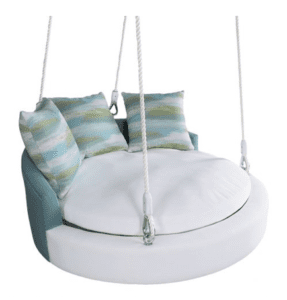 The ceiling in Lucien's main floor will feature inverted floating stacked ceiling tiles that will be backlit on multiple sides. Textured wall coverings will encase the fireplace and provide visual intrigue. The floating staircase will have walnut treads suspended by a mono-stringer design of open risers and cable rails. A freestanding tub in the master bath will have a wall mounted waterfall feature. Textured white wall tile accents will be used in the shower.
The Lucien's exterior living space will feature white stucco wall detailing, a large white upholstered kidney-shaped sectional, and several bronze movable bio-fuel columns. A suspended swinging patio chair with white upholstery will provide serenity overlooking the pool area.
With a pre-construction price of $3.3 million, the Lucien's interior will reflect a more transitional contemporary design with a coastal twist in an open floor plan encouraging connection with the outdoors.
Established in 1993, Bonita Springs-based Gulfshore Homes specializes in tailor-made residential designs with upscale lifestyle features that make each home uniquely distinct. It's roster of exemplary crafted luxury homes – in addition to those in Miromar Lakes Beach & Golf Club – can are found in the area's most coveted neighborhoods including Mediterra, Bay Colony, the Moorings, Grey Oaks, and Port Royal. In addition to new home builds, Gulfshore Homes also offers renovation design services for aging luxury homes. A full gallery of ultimate homes crafted or renovated by Gulfshore Homes can be found at www.gulfshorehomes.com.